Burlingame Instructor Finds Higher Purpose in 50-Marathon Journey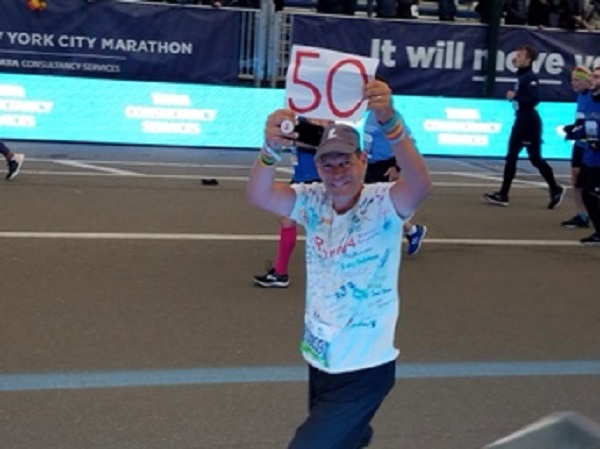 EDITOR'S NOTE: The following article was published in the Topeka Capitol-Journal on Nov. 1, prior to Steve Sodergren's running in the New York City Marathon and completing a goal of completing marathons in each of the 50 states. It is reprinted with permission.
There has always been a reason for Steve Sodergren to run.
He took up cross country his freshman year at Seaman High School after his basketball coach told him he had to go out for a fall sport. "And since I weighed about 130 pounds, I wasn't going to go out for football," he joked.
About 20 years after graduation, Sodergren took up running marathons after watching his wife, Jenny, race in the 2003 Chicago Marathon. "For some reason, it grabbed a hold of me and I thought I'd like to do that," he said.
What started as a bucket-list item soon became a passion for Sodergren. He ran in another marathon and another, and before he knew it Sodergren was on a mission to become a member of the 50 Marathon Club, which entails completing 50 marathons in all 50 states.
"I thought if I was going to keep doing them, I might as well do them in different states," he said. "Once I got up to 20, I thought, 'Well, I'm going to do them all.'"
Sodergren will complete that mission Sunday when he runs in the New York City Marathon, his 50th and final state. It's taken 16 years for the 56-year-old Topekan to complete the journey.
"All along, I wanted to save a really big one for the last," Sodergren said. "New York just seemed like the right one."
Sodergren admits about 10 or 12 races into his quest, running marathons somewhat lost its appeal.
"I trained really by the book and it's very stringent and I did everything you're supposed to do, never missed a workout," he said. "To be honest, it took a little bit of the fun out of it because it became more of an obligation. About the first 10 or 12, I had my eye on the clock. I wanted to see what time I could run. It kind of stopped being fun and the purpose behind it wasn't really there."
Having a reason to run had carried Sodergren only so far. Finding a purpose, which he did in 2014, has carried him far beyond what he ever could have imagined.
While on a training run on N.E. 35th Street in November 2014 for his 33rd marathon, Sodergren passed by the house of neighbors Jerry and Christine Kottman. Their daughter, Morgan, had been diagnosed with a brain tumor 21 months prior and was in her final weeks of life that morning.
"I just remember going past their house, thinking of their situation," Sodergren said. "The sun was coming up and something just clicked with me that I needed to do something with my running. I needed to have a higher purpose to it.
"You know, I had always wondered for several years, 'Why? Why are your doing this?' It had always seemed sort of selfish actually, so I decided to do something with it."
From that day on, Sodergren has run with the main purpose of raising money for cancer research, in particular for pediatric cancer. He has partnered with St. Jude Children's Research Hospital in Memphis, Tenn.
Once his purpose became clear — becoming even more personal and purposeful when his mother, Myra, was diagnosed with a brain tumor in May 2015 — Sodergren jumped all in to making an difference. Every day he trains is devoted to someone who has been diagnosed with cancer or another life-threatening illness, and on his Running4 Facebook page he'll post a photo of himself with a sign that says Running4 and the person's name.
Each marathon, Sodergren wears the same T-shirt, one bearing the signatures of roughly 100 cancer patients he calls his angels, survivors and fighters.
Through his Running4 Facebook page, Sodergren set a goal to raise $26,200 for cancer charities, or $1,000 for each mile that makes up a marathon race. He also has a website link through St. Jude — www.heroes.stjude.org/nyc50 — where donations can be made.
"I thought that was an audacious goal," Sodergren said. "I'm not a fundraiser or the type of person that gets in people's face and ask for money. I just put the story out there and ask for money and people have responded."
Indeed, they have.
The goal was to raise his goal of $26,200 by the time he hit New York and his 50th marathon. When he steps to the starting line on Sunday, he will have raised nearly $200,000.
"I'm surprised especially," Sodergren said. "It is extremely humbling when you have the mother of someone you've dedicated a run to approach you and tell you what it meant to them and give you a hug. I've heard repeatedly from parents who have lost a child that one of their biggest fears is that people will forget their child over time. So when that child is an angel and I go running for them, they've told me how meaningful it is that people aren't forgetting."
Sodergen said he will seek out and take pictures on Sunday with different cancer survivors along his route and has been notified by several about their intent to be there to cheer him on.
"It's going to be pretty emotional," Sodergren said. "I'm not even sure my feet will touch the ground."
Once his journey is complete Sunday, Sodergren isn't sure what the next step is. But he knows that staying the current course of being an advocate for cancer research will be on whatever path he chooses.
"I think I'll let a little time go by for what comes next," he said. "I will definitely continue to raise money for cancer research one way or another. It seems like the platform of running is one that resonates with people, so we'll have to see what that means.
"There's something bigger than me at work here and it's been overwhelming."
Anyone interested in making a donation may visit www.heroes.stjude.org/nyc50.